Download Discord: https://discord.com/download
Login/Register: https://discord.com/login
Invite-Link to Discord Server: https://discord.gg/3svsq8baMc
What is Discord?
Discord is an instant messaging social platform which has started popularity in the gaming community but has since its release in 2015 gained increased popularity in other communities too.
Individual communities can create their own "servers" which they have full control over similar to a "forum" and invite other users to it.
A User can be part of multiple servers/communities that are completely separate from it.
Why are we (VanBrewers) starting to use Discord?
For a long time, Facebook was our main form of communication. We have a very large private Group that is being moderated by the execs of the club.
However, many active members and non-members are becoming increasingly inactive on Facebook or are deleting their accounts for various reasons.
Because of that we have decided to create a Discord Server.
What's happening to the Facebook Group?
The Facebook Group will stay open and moderated while we are ramping up the Discord server
Is the Discord Server for Members only?
No, everyone who brews their own beer or wants to start brewing is invited to join!
We have multiple channels that are open to everyone, but also have a members only section where we discuss or announce any club-only business.
Enough of this, I want to join the Server!!!
If you are not a member, follow this link to join the Server https://discord.com/invite/3svsq8baMc
You may be prompted to create an account or login to your Discord account.
If you are a member, please login in to your VanBrewers Account at https://vanbrewers.ca/account/
On the bottom of the Screen you will see a "Connect with Discord" Button. Click it.
You will then be prompted to login or to create a Discord account.
After that please click "Authorize". VanBrewers does not have access to any of your discord information other than your username and email. The app is being used to sync your membership status between our member portal and Discord.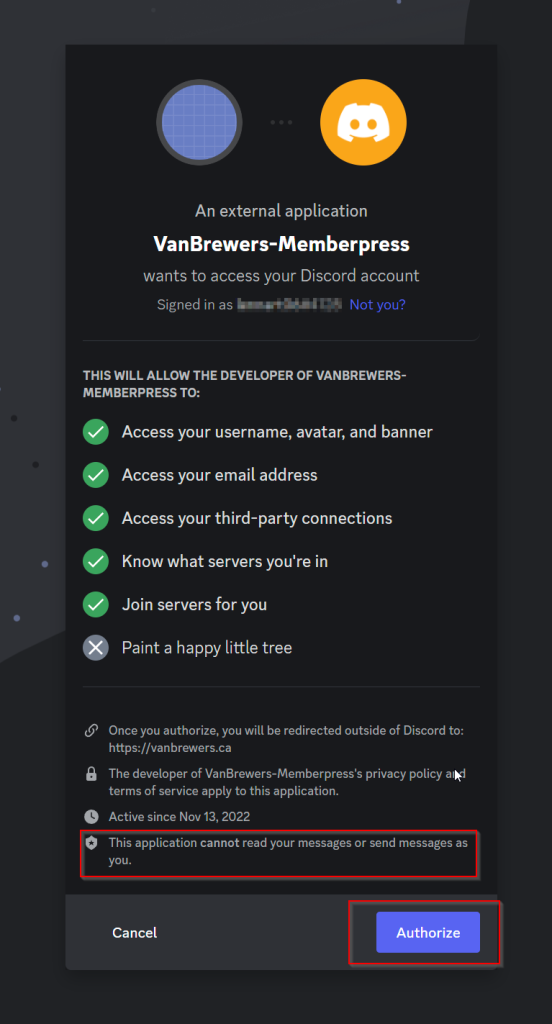 Congrats! You are in. You may want to download the Discord App from https://discord.com/download for your computer and/or mobile device.
How to use Discord and what are all these channels for?
Currently we are starting off with two main sections and channels
Community: Main area for communication with members and non-members

General – General Channel for all discussions
In-Glasses – Tell us about what is in your glass. Any tasty beers you recently brewed or bought from breweries
Marketplace – Any type of beer brewing related equipment you want to sell/buy

VanBrewers Member Area (if you don't have access, link your Account @ https://vanbrewers.ca/account/ or contact an Exec)

General – General Channel for all discussions
Club-announcements – any club internal announcements
Recipes – any recipes you want to share with your fellow VanBrewers
Judging – any judging related discussions
Comps – anything in relation to Competition. Either VanBrewers or hosted by other clubs
This Channel-List is not final and we may add or remove channels if we see demand.
Helpful Official Guides for Discord:
You can also rename your server-specific Nickname
Open Your "User Settings"